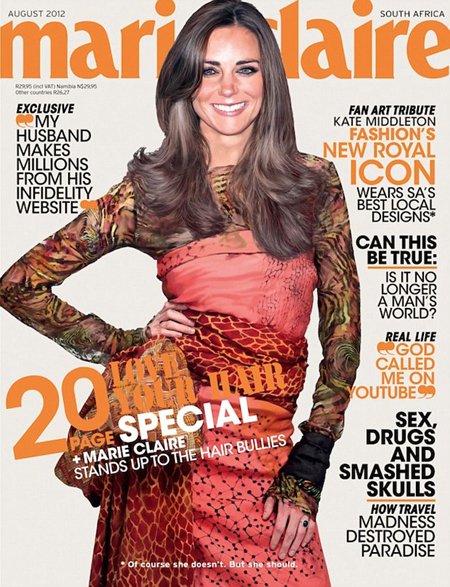 To tell you the truth I was shocked to see Duchess of Cambridge on the cover of Marie Claire South Africa… But when I looked closer everything became obvious. Kate NEVER posed for this issue, they just faked it. For me it is totally inappropriate, even if they call it "fan art tribute".
Marie Claire South Africa editor Aspasia Karras told the Telegraph:
"The cover is actually a hyper-real illustration of Kate, meant to be a fan art tribute to fashion's new royal icon."
To add to this, they dressed Kate in one of South African designer's creations. And while I have nothing against the designer or his works, the idea itself seems ridiculous. The Duchess (who is one of my style icons!) would never wear anything like this. She has to sport more demure and monotone pieces (and of course, top it off with a trendy Tracey creation).
If Marie Claire South Africa wanted some publicity, they definitely got it. But is that really that kind of publicity they wanted? I think it's just really sad that they would stoop to something so stupid.